Thank you for visiting our website.
The families of Trinity Lutheran Church in Bellingham would like to invite you to join us in our mission to share God's love, to follow Jesus Christ and to serve others. The God who created this world and sent His Son to rescue the fallen world gives meaning and hope in life. He also provides encouragement and strength for each day. Let us know if you can help you.
Traditional Service – August 7, 2022
Praise Service – August 7, 2022
We are delighted to have host a VBS where children are able to learn about how they are treasured by God. Download the VBS registration form and mail it, email it or bring it to the church office. There is a limited number of spaces for preschoolers. Call the church office to sign up your preschooler for a spot. There is no limit on the other ages.
Our congregation is once again sponsoring a family weekend camping experience. It begins Friday evening and continues until about noon on Sunday. We invite you to click on the registration form and send it into our church by July 18 if you would like to be part of this fun and relaxing weekend. If you have any questions, please contact the church office.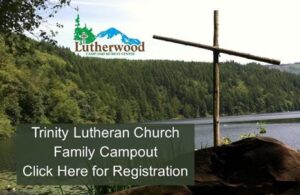 Trinity Lutheran Church is a member of the Lutheran Church – Missouri Synod.
Click on logos to find out more about us and some wonderful organizations in our Synod.