Trinity Music Series Presents
Preforming works by Walther, Bach, Parry, Still,
Rorem, Mulet, and Mendelssohn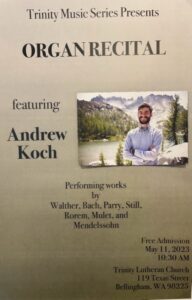 This is Trinity's choir of soprano, alto, tenor, and bass voices directed by
Dr. Gabriel B. Mañalac in collaboration with Choir Pianist, Rebecca Mañalac.
Trinity Grace Notes Choir Rehearsals are on Wednesdays at 5:30pm in the Sanctuary. For any questions, or to get involved, contact Director of Music, Gabe Mañalac, at manalacpiano@gmail.com.
This ensemble leads the musical worship for Trinity's Contemporary Service on Sunday Mornings. Kim Wagner directs this ensemble of piano, guitar voices, bass, and drums. Practice is on Wednesdays at 4:15pm.
Christus Jubellations Bell Choir
Trinity's handbell choir is a group of people of all ages who enjoy ringing handbells to God's glory.
Rehearsals take place on Tuesdays, in the Sanctuary at the following times:
4:00pm Children's Music Hour (Handbells & Choir Rehearsal)
5:00pm Exultate Bell Ensemble/Advanced Rehearsal
6:00pm Christus JuBellations Bell Choir Rehearsal
Bell Choir Director is Rebecca Mañalac. Contact her at manalacpiano@gmail.com.